Denton Community Theatre: Mary Poppins
Director
Jim Laney
Cast
Mary Poppins Beth Lipton
Bert Walker Sims
Mr. Banks Scott Deck
Mrs. Winifred Banks Liz J. Millea
Jane Kate Dillingham
Michael Lukas Jiminez-Bolin
Katie Nanna Kay Lamb
Miss Lark Sharon Barnhill
(with Pee Wee Barnhill as Willoughby)
Admiral Boom Fred Cassell
Mrs. Brill Kimberly Mickel
Robertson Ay Seth O'Bannon
Bird Woman Ashton Richie
Mrs. Corry Melissa Sims
Valentine Allison Barr
Miss Andrew Leigh Ann Stadt
Review
Denton Community Theatre brought together a phenomenal cast for their latest production. Beth Lipton's Mary was a delicate balance of prim iron and loving strength, bringing humanity to the unearthly character. Despite his young age, Sims created a believably Mary-adoring sweep with a flair for metatextuality – as the backbone of the framing device, he beckoned the audience into the story and kept the narration going with a deep connection to the airy world he shares with us "twixt pavement and stars". In the role of Mrs. Corrie, Sims's mother Melissa was theatrically delightful, running her shopful of conversation with feathers in her hat and spice in her trilling French accent. The Bird Woman, Ashton Richie, was a figure of pathos on the London streets: her gentle duet with Mary was stirringly bittersweet, bringing a contemplative grey to the fantastical color of the show.
Pulling double duty as the nuanced Winifred Banks and the choreographer, Liz J. Millea created high-energy routines for songs like 'Supercalifragilisticexpialidocious' and 'Step In Time'. As Mrs. Banks, she moved gently and believably from a put-upon, uncomfortable society wife to a gracious, confident mother. Mr. Banks was a relatably remote presence, until his childhood was explained in the domineering and frightening Mrs. Andrews. As he grew in sympathy, he grew closer to his family, until he was able to choose them over prosperity and was rewarded with both.
The unlikely couple Miss Lark and Admiral Boom were also a delight to watch: Miss Lark carried her actual dog Willoughby and barked his "lines", while Admiral Boom staggered through the wind, praised the weather, and kept up his old shipside attitude with glorious abandon. Mrs. Brill and Robertson Ay were a hilarious double act, with Mrs. Brill lording her way over the kitchen (and anyone that strayed into it) and Robertson Ay doing his utter hapless best to help.
Interview with Valentine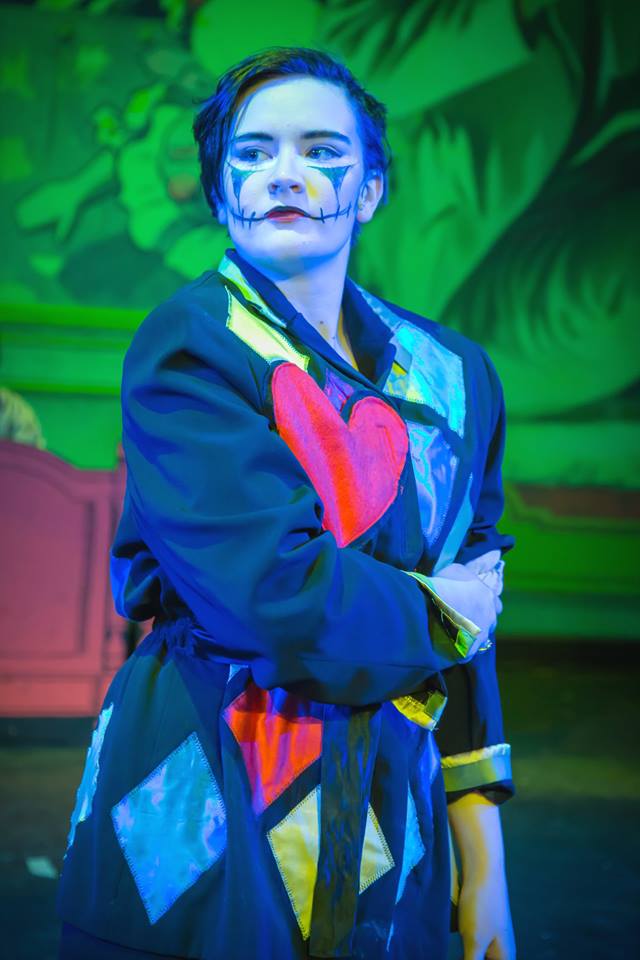 In the show's darkest moment (the Act I Finale, "Playing The Game"), new discovery Allison Barr shone as the battered doll Valentine. Mary Poppins brings the children's toys to life in an attempt to make them treat the toys with respect, after a tussle between Jane and Michael breaks Valentine's arm. Valentine leads the awakened toys in an eerie routine protesting the children's rough play and neglect, saying they aren't "playing the game" fair and demanding that the children learn "the value of us".
Barr's Valentine is creepy in the extreme, everything you would expect from a doll brought to life: uncanny gestures, mechanical grins, loose limbs – and painful, vicious anger. She half-sings, half-shouts some of her lyrics, dances with desperate intensity, and almost gives the impression that Valentine might attack the children if Mary weren't there to intercede for him. In the end, the children insist that the toys are their own property to treat as they please, and Mary decides it's time for her to leave the Banks family to work on their own issues for a little while.
I was surprised not to hear Barr's trademark full soprano sound, and later asked her why she chose not to show it off in "Playing The Game". "I was singing Valentine very pretty and sweet – up until Monday night just before opening," she said. "On Monday, I broke down crying in the middle of an ordinary conversation with Walker [Sims, playing Bert]. I was so overwhelmed with fear and helplessness and I felt so broken, and I didn't understand why. Ashton [Richie, the Bird Woman] took me out to talk, and I realized that feeling wasn't me – it was Valentine. He's helpless and scared and hurt, he has no voice, no agency, not until Mary brings him to life. And when he gets his voice, he's not pretty. He's scared. And he's angry."
Moving into the second act, we encountered more familiar pieces from the Disney film version. "Step In Time" was the number everybody had been waiting for through the whole show, and the cast knew it. The music began with restraint, both in volume and tempo, as more and more of the chimney-sweep dance ensemble arrived onstage to accompany Bert in his wild foray down the Banks's chimney, and built to a wild pitch of tapping, spinning, and giddy energy. (Most of the dancers were elementary-aged but technically excellent, dancing with precision and joy through both difficult numbers like "Step In Time" and simpler numbers like "Let's Go Fly A Kite".)
But the number that stole the second act was another unfamiliar piece, which Barr refers to as "the nanny-off": "Brimstone And Treacle (reprise)", a duet between Mary Poppins and the terrifying old nanny Miss Andrews. Miss Andrews has been called to replace the vanished Mary, and causes misery in the Banks household with her domineering ways. When Mary arrives on the scene, she and Andrews face off in a sparkling soprano counterpoint. Stadt is an older actress with a long resume, including Carnegie Hall, but Lipton's effortless, self-assured voice made Mary's victory sound bright, young, and fierce.
DCT produced a high-quality show: this was my first time at the Campus Theater, and I was very impressed with all aspects of the performance. I'm looking forward to going back this summer to see West Side Story – I can't wait to see their talented cast take on a more dance-heavy show.
---
April 15th, 2016