The Dallas Opera: Tosca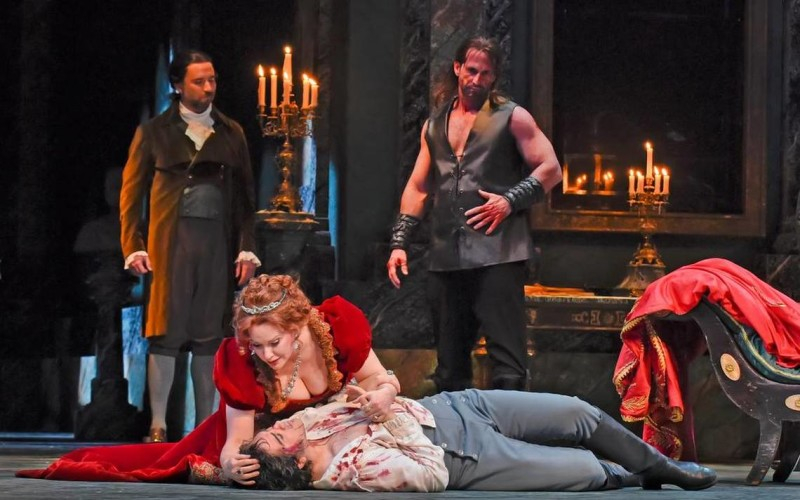 Director
Ellen Douglas Schlaefer
Conductor
Emmanuel Villaume
Cast
Tosca Emily Magee
Cavaradossi Giancarlo Monsalve
Scarpia Raymond Aceto
Angelotti Ryan Kuster
Sacristan Dale Travis
Spoletta William Ferguson
Sciarrone We Mason
Shepherd Boy Campbell S. Collins III
Jailer Christopher Harrison
Review
The Dallas Opera's Tosca appeared in a season featuring several world premieres. Critics called it a "safe", "conventional" choice, but the classic production had its own beauty. My sister Allison and I (she attending a live opera for the first time, I for the third) were enthralled with the drama and over-the-top passion that have characterized opera for so long.
Magee was a less flamboyant Tosca than I had imagined. To my mind, an actress with secret ties to revolution is a far more dramatic and fiery figure than Magee's plucky, pretty heroine. But her voice was beautiful, expressive and effortless, and her "Vissi d'arte" left the audience breathless. Monsalve's Cavaradossi was the perfect tenor love interest: dramatic, loyal, intense, and passionate without a hint of common sense. It was almost unbelievable for Tosca to suspect him of cheating – he was so utterly in love with her, and so innocently noble that he couldn't possibly have hidden anything but revolutionary activity from her.
Scarpia was brilliantly and slimily portrayed by Aceto. It was impossible not to despise him as he schemed and plotted his way across the stage, with his devilishly deep voice. He was a joy to listen to, but so terribly creepy and cruel that every minute he was onstage with Tosca before she killed him was tortuous to watch – a wonderfully effective villain. Travis's Sacristan also stood out, fluffily comic among all the drama, along with the ethereal solo of Collins's shepherd boy in Act III.
The sets were lavishly detailed, true to operatic convention, and the costumes were beautiful. The staging (especially the lighting) created some fascinating moments of contrast. In Act I, Scarpia delivered his aria "Va, Tosca!" from the lower half of the stage, in a dramatic spotlight, while the church chorus sang their "Te Deum" from the second level in quiet blueish light reminiscent of church windows. In Act III, Tosca and Cavaradossi and the rest of the actors moved around a three-leveled set piece which allowed Tosca to watch Cavaradossi's "fake" execution from above the courtyard and then jump to her own death from an even higher point.
This classic opera was a sweet experience for Allison and me: unlike long-term opera buffs, we're still discovering all the old tropes and conventions, and even a production as "safely" old-fashioned as this is still new and delightful to us. The heights of drama and passion were delivered with utter sincerity, every extravagant twist and betrayal and despair completely believable in the intensely animated world laid out before us. We laughed at the fluffy old Sacristan and the excitable children's chorus, we railed against Scarpia and his despicable machinations, we sighed at Tosca holding her tortured lover, we cheered for Scarpia's death, we cried when Tosca discovered Cavaradossi dead and made her final leap. Nothing lagged or bored.
I asked Allison what made this Tosca more special than the movie operas we'd watched before on YouTube. "Everything was over the top," she said. "The sets, the acting, the costumes, the voices! In film-version operas, you know there are mics… but we sat on the fifth level and heard every sigh, and it was special. It was just… amazing."
---
November 6th, 2015