American Baroque Opera Company: Alcina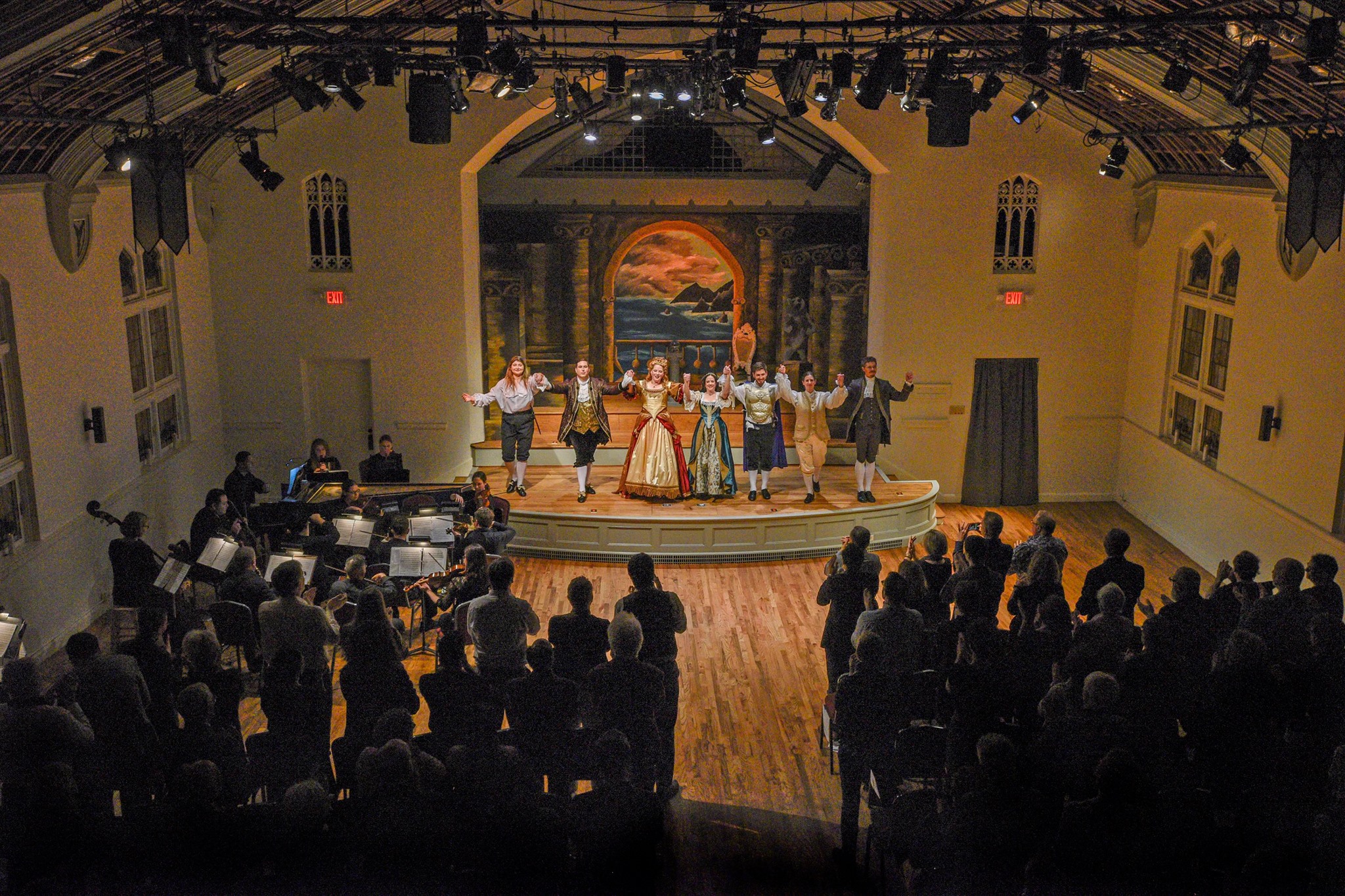 Artistic/Music Director
Eric Smith
Stage Director
Rebecca Choate Beasley
Cast
Alcina Lyndi Williams Krause
Ruggiero Nicholas Garza
Morgana Jendi Tarde
Bradamante Hannah Ceniseros
Oronte Tony Hughes
Melisso Joshua Hughes
Oberto Leslie Hochmann
Review
This Alcina was the first full production from the American Baroque Opera Company. It's new, but it's not at all amateur: it includes students from the University of North Texas (currently the only Texas university with an Early Music program) alongside artists from New York and Hawaii. Their venue was Arts Misson Oak Cliff, a repurposed church that made for an intriguing, intimate space. The hall was full by showtime (see the cover image – I'm the one standing half in the aisle on the right), but not uncomfortably packed – it was just the right size. Check ABOC's Facebook for more pictures of the production!
The 15-piece orchestra was set just off the stage, a small tiered space containing scenery and a backdrop, with a curtained door off to the other side for exits and entrances. The actors used the full space, walking around the orchestra, down the aisles, and stepping up and down off the raised stage. There were no scene changes, but colored lighting was used to great effect for Alcina's arias – dim cool colors for "Ah, mio cor", or solid red for "Ombre pallide". (Was it Alcina's emotions magically affecting the world around her?)
As Alcina, Lyndi Williams Krause owned the stage and everyone on it. Just coming off the same role at UNT, she played Alcina with casually uncontestable command. Even in scenes like "Si, son quella" and "Mio bel tesoro", she seldom seemed threatened: she believed herself in full control. And yet Krause also portrayed a vivid descent from denial to anger to grief. Alcina has a long string of arias that sometimes seem repetitively angry or sad, but Krause made each one its own unique step through Alcina's psychology. I often skip past "Ah, mio cor" in recorded performances because it's a) slow and b) fifteen minutes long, but here Krause held me riveted for every second. She absolutely inhabited Alcina, mentally and musically; her singing seemed as natural as speaking, despite its flawless legato and creative ornamentation, and her character was the most vividly-drawn of all.
Nicholas Garzia's Ruggiero progressed from sleepy, stuporous enchantment to a more lively character over the course of the evening as he recovered from his enchantment. By the time he sang "Sta nell'Ircana," his voice was full and bright and strong, with ringing high ornaments, but his earlier muted interactions left me wishing for Josefina Maldonado's attentive, energetic Ruggiero in UNT's production last month. Garzia's voice was thrilling when he wanted it to be, but his languid acting (while a defensible interpretive choice) failed to hold my attention.
Jendi Tarde was a playful, stubborn Morgana, continually getting in her love interests' personal space and demanding attention even when silent. Tarde's voice is strong and mature, with perfectly-controlled top notes, and her comic timing is rivaled only by her ability to pull off sincere pathos. "Credete il mio dolor" was a fascinating seduction: Oronte tried his hardest to hold out, but I wanted to give in myself. Her legato was so smooth, her high trills were so exquisitely quiet, and her sadness was indeed completely convincing, and I just wanted her not to be sad anymore. She reminded me of Carmen Giannattasio as Vitellia in the Aix Clemenza: tiny, imperious and vivid with a huge voice. (At the end of the aria, she disengaged herself from Oronte's arms and exited with a sideways glance and a flick of her fan that somehow seemed to render the whole scene a studied strategy. Morgana's character hovered on the edge of Alcina's in the most fascinating way: she seems to have picked up her sister's manipulative, commanding ways, but maintains a genuine ardor that's all her own.)
Bradamante was another performer from UNT's production, and Hannah Ceniseros was utterly at home in her music. A mezzo rather than an alto, she used her light agile voice to great effect with adventurous ornaments, unexpected heights, and delicate touches that fit perfectly into the music. She has a vibrant top and bottom to her range, and solid coloratura all the way through. A bit of stage direction that stood out was Bradamante unbraiding her hair during one of her long runs in "Vorrei vendicarmi" as she revealed herself – something about watching her fingers and her voice moving together was mesmerizing. ("Vorrei vendicarmi" had some of the loudest applause of the night, thanks to Ceniseros's fireworks and indignation.) Her interactions with Morgana were consistently amusing – Ceniseros's take on Bradamante's character was something like an awkward Mulan, attempting to stay "manly" and convincing in overwhelming situations, and Tarde played off her well with overdemonstrative affection. It seemed as if Bradamante's own warrior background had been passed over, leaving her a little out of her depth with the other knights – for example, the normally funny exchange where Ruggiero says "I will clear a path for us with my arms!" and Bradamante rejoins "and I with my sword!" fell flat, because it read as Bradamante wanting to be included (along with her smallish sword) rather than fellow-fighter Bradamante punning on her overdramatic fiance's declaration.
Tony Hughes's Oronte seemed a little unsure of his music, with careful coloratura and standard ornaments, but he was an engaged, lively actor with a strong steady voice. He and Morgana had unmatched chemistry, and his desire, frustration, and longing for freedom all shone out. Hughes seemed to encourage his stage partners, rousing Garza's Ruggiero to startling agitation with his Iago-esque "Semplicetto" and giving Tarde's Morgana exactly the lovestruck straight-man her comedy needed. He had a particularly effective bit of stage business in the background of "É gelosia," hesitantly reaching for Morgana's skirt or hand as she kept shooing him away without looking.
Joshua Hughes (who by looks and name seems to be related to Tony Hughes, although I can't confirm this) was a youngish and encouraging teacher-type Melisso. His one aria was cut down to its A section (which was disappointing, since he sang it with a good warm tone and smooth coloratura), but, like Krause's, his singing was so natural as to make the music flow into the story. His Melisso was intently focused on taking care of everyone, from holding Bradamante back from revealing herself to Ruggiero (and reassuring her that she could handle Morgana!) to steering Oberto immediately out of the final battle.
As Oberto, soprano Leslie Hochmann at first had me thinking she was a mezzo. She has a dark, smooth voice with a beautiful even tone and a strong top that would sound fantastic singing Ruggiero's music. Her boyish acting was a little on the stylized/exaggerated side, with Peter Pan poses and pouts, but it communicated well and her sincerity (and musicality) more than made up for any stiffness. She was given all three of her arias (although "Tra speme e timore" was cut down to its A section) and managed to establish a rapport with every character she faced, despite her limited stage time. Bradamante and Melisso were immediately protective and sympathetic (Bradamante and Oberto are cousins of a sort, after all, since Oberto's transformed father Astolfo is mentioned as Bradamante's cousin). Alcina at first found Oberto amusing and humored him with queenly generosity, then swiveled to vent her anger on him in the scene before "Barbara!" in a chilling way that reinforced her emotional distance from the other characters.
The staging ended with Alcina and Morgana defeated, the lights came down, and then when they went back up, the cast did their curtain call bows over the "Dopo tante amare pene" music and then sang the chorus. It worked well and reminded me of the Vienna State Opera production where the whole opera is put on by guests at a lady's house, blurring the fourth wall. The cast and orchestra got applause and cheers and even stamping that went on for quite some time, even after the cast had left and had to come back on to bow again.
Afterwards, the cast and musicians came out and mingled and visited with the audience members, and I had the chance to talk with Ms. Krause and congratulate her on her performance. I'm looking forward to ABOC's next season – starting with Dido and Aeneas in concert, October 2018!
---
March 8th, 2018